Our values
The Vulli company is very conscious of ecology and sustainable development issues. It is though our products and internal policies that we show our commitment.
Sustainable development at the heart of the positioning of our products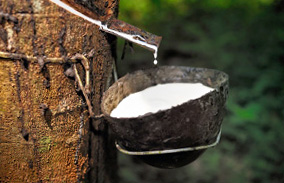 Sophie la girafe® is made of 100% natural rubber. The latter comes from the Hevea tree growing in sustainable forests.

The development of the Klorofil line is focused on environmental protection. Through the toys' playful dimension, the child's awareness of concepts such as the ecology, the renewable energies or the protection of endangered species is increased.
Our Vulli company, a committed society

We put great emphasis into reducing our environmental impact and our company has implemented many initiatives to this effect: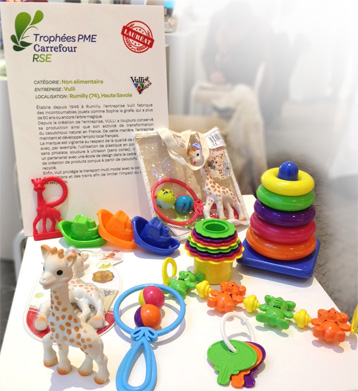 • The plaster used for the manufacturing of Sophie la girafe® is sorted separately and recycled in the plasterer industry.
• The waste (plastics, scrap metal, boxes and other) are set aside for recycling.
• A study on the recycling of all rubber waste is currently being conducted. It is important to acknowledge that during the past three years, the quantity of waste has been divided by four.
• Our employees particularly care about this cause. Thanks to everyone's investment, the company won, in 2014, the Trophée du Développement Durable Carrefour.
• In partnership with the city of Rumilly and in order to preserve biodiversity, a hedge of fifteen different species was planted and beehives was installed in 2015.
Our company has always been very keen to create and preserve employment, to favor collaborations with local companies and to make sure that all of its partners engage with her in a responsible way. Therefore:
• "Tutorials" aimed at training the youth and to maintain the skills and employment of established workers have been established.
• As a French corporation who is committed to its territory, our company employs and establishes partnerships with local stakeholders in order to contribute to the local economy.
• A civic and ethical code was drafted to respect, create and promote responsible principles of production and entrepreneurship. All our suppliers, subcontractors and distributors adhere to it.